HD661
Professional Monitoring Headphones
• Exceptional design of depth of sound field and excellent for live sound monitoring application
• Dynamic, closed-back circumaural headphones
• High noise attenuation
• Ø40 mm high resolution drivers
• Precision tuned acoustic chamber
• Patented self-adjusting headband for great fit and maximum comfort
• Rotating ear pad construction for convenient single-ear monitoring
• Detachable, single side cable
• Light weight


Both the HD661 and MDR-7506 have a similar frequency curve. The HD661 delivers a wide dynamic range and high resolution sound, presenting the crystal clear audio details demanded by professional users.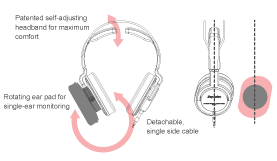 Type: Dynamic, closed-back
Driver: Ø40 mm, neodymium
Sensitivity: 102 dB SPL (1 mW)
Frequency Response: 10-20,000 Hz
Max. Input Power: 200 mW
Rated Impedance: 68 Ω (Copper-coated aluminum wire)
Ear Pads: Leatherette
Cables: 1-meter (3.3 ft.) & 3-meter (9.8ft.) straight ,single-sided;plugin cable on headphones (mini stereo connector)
Connector: Gold plated stereo mini plug
Headphone Caliper Pressure: Approx. 4.5 N
Net Weight: (without cable) 190 g (6.7 oz)
Why Superlux?
Superlux products shall be impressed by ourselves than to impress the consumer. This is our desire and passion for the past 30+ years of audio product and service provision to our value customers.Performance, quality, and price are the essences of Superlux products. It is also the latest achievement from Superlux. 
We are touched, and hope you will be.
About Superlux
 Starting from a bachelor apartment just 30 years ago, the Superlux company is now a modern manufacturer occupying a 8.65-acre (350 Ares) site in the heart of Shanghai city. We do not stop there. We are currently building a brand new 57.66-acre (2333 Ares) facility in the Superlux industrial zone at Lan-Yuan port, China. This growth would not have been possible without the strong commitment throughout the years of you, our friends and partners. We cherish every opportunity when we can work together to bring the greatest products to the users. Value in Sound is our core belief, continually motivating us to go forward. Our best reward is to hear you say, "Wow, Superlux products are a really great value!" Then all our efforts have been worthwhile.

We insist on doing the right thing and doing it right from start to finish. We focus on electronic audio products, R&D and production. From the input to the output, from the microphones, amplifiers and headphones to the speakers, we have a very complete product line. Our strengths are a high production rate, a global hub logistics center and an ERP internal control system. Our management team integrates R&D, production, marketing and sales so we can always provide a total solution for our customers.

An important part of our R & D is Mr Pan Zheng Yuan who was invited to join the Superlux team in1996. Mr. Pan is from a pioneering microphone family who successfully developed the first condenser microphone in China 60 years ago. Following in his father's footsteps, Mr. Pan has worked on developing electroacoustic products for 48 years and is a master technician who is truly passionate about his art. His expertise has proved invaluable and he is truly an inspiration to everybody in the R & D team at Superlux.

Superlux is a company who thinks highly of our employees' training and benefits. Through daily exercise, we motivate our people and grow together to create a strong team, one of the best in the industry. We have a very long vision for the electronic audio industry, and hope to create even more value for you, our friends and partners.